He's an actor who's best known for this role as Taliban terrorist Haissam Haqqani in Homeland. But he'd rather play Jesus, whom he describes as "a Jew, a Christian and a refugee". Welcome to the world of Numan Acar, Germany's most successful actor in Hollywood right now.
25 FACTS ABOUT ACTOR NUMAN ACAR
Numan Acar is a Turkish born actor who grew up in Wiesbaden (Germany). Today, he lives in Kreuzberg, Berlin's most multicultural district.
He was born in Kozoglu (Black Sea region of Turkey) on 7 October 1974. He grew up in Erzincan until the age of eight. In 1982, he emigrated to Wiesbaden (Germany) with his family.
Like his father and most men of his family, Numan Acar became a bricklayer. His father was only 12 when he left Anatolia to go to Istanbul to work on a construction site. Years later, his father would tell Numan: "Don't be afraid of work. Work has to be afraid of you."
After completing his bricklayer apprenticeship in Wiesbaden, Numan Acar got his advanced technical college certificate (Fachabitur) and studied civil engineering at university. He also attended acting workshops.
TURKEY AND GERMANY: A BICULTURAL HERITAGE
In an interview with Die Welt, he said: "I worked very hard for 15 years to become an actor. I've been deceived many times and I had little money. Nevertheless, I always motivated myself, because I really love my work. Role models were important, but also the certainty that everyone writes his own story."
In 2004. Numan Acar made his debut in the German film Kebab Connection. From 2004 to 2009, he lived in Berlin and Istanbul and got small roles in German and Turkish films.
Kebab Connection was Numan's first collaboration with Fatih Akin, who wrote part of the script. Years later, Fatih Akin became Germany's most successful film director. He directed Numan in the films The Cut (2014) and In the Fade ("Aus dem Nichts", 2017).
In 2007, he founded his production company Acar Entertainment.
HOMELAND AND THE COMEBACK OF HAQQANI
Numan Acar is best known for his role as Haissam Haqqani in the TV series Homeland (season 4, 2014, 7 appearances). The plot is set in Afghanistan and Pakistan, but the episodes were shot in South Africa.
Haqqani is a Taliban leader who fought in the Soviet-Afghan War and was a long-time client of Pakistan's ISI. The hunt for Haqqani is Carrie Matheson's priority, when she serves as station chief in Islamabad. Haqqani is responsible for the death of one of her assets (his own nephew) and for the terrorist attack on the US embassy.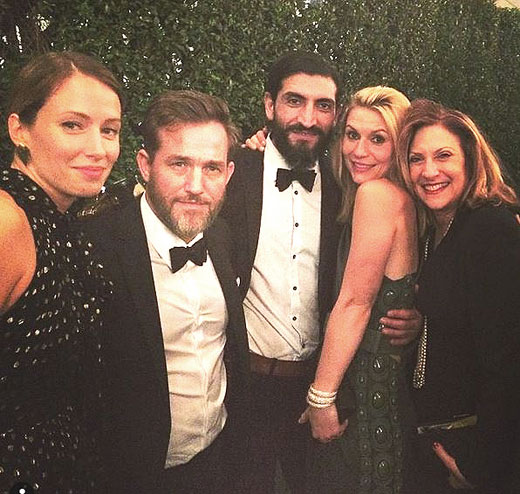 On the film set of Homeland, Numan made friends with actor Mandy Patinkin, who plays counter-terrorism operative Saul Berenson. In an interview with Kabel 1, the German actor said that he was writing a script for a political movie. And guess who would play the leading roles? Numan Acar and Mandy Patinkin, who else?
Haqqani will make a comeback in Homeland, season 8. The film crew shot part of the episodes in Casablanca (Morocco) in fall 2019.
PRISON BREAK AND CANNES

In 2017, Numan Acar played Abu Ramal in Prison Break, season 5, in 3 episodes. Ramal is a leader of ISIL (Islamic State of Irak and the Levant) in Yemen. He is incarcerated in Ogygia Prison and uses Michael Scofield (Wentworth Miller) to escape.
Although much of Prison Break season 5 is set in Yemen, the majority of it was filmed in Vancouver.
In 2017, Numan Acar played Nuri Sekerci in the film Into the Fade directed by Fatih Akin. Diane Kruger played the leading role of a German woman whose son and husband are killed in a terrorist attack.
The film was selected to compete for the Palme d'Or in the main competition section at the 2017 Cannes Film Festival, where Kruger won the Best Actress award. In her speech, she dedicated the award to the victims of terrorism.
The film was co-produced by Mélita Toscan du Plantier, the wife of France's most influential film producer, Daniel Toscan du Plantier (1941-2003), which helped to launch the film internationally.
«I'D RATHER PLAY JESUS THAN JAMES BOND»
The Süddeutsche Magazin published an interview without words with Numan Acar. He had to act to give an answer to the 12 questions (link).
In an interview with Netzwelt, Numan Acar said that if he had the choice to play either Jesus or James Bond, he would opt for the role of Jesus. (A good choice, but let's face it, dear Numan, Jesus died at the age of 33, and you're 45 now. Therefore, you would really need an excellent make-up artist to rejuvenate you.)
In the interview, he described Jesus as "the son of God who was a Jew, a Christian and a refugee and who probably spoke Arabic, Aramaic and Hebrew". (Okay, that's an interesting answer, but Jesus was a Jew, not a Christian. Christians are the ones who believe in the resurrection of Jesus Christ. Aramaic was the mother tongue of Jesus, he most probably spoke Hebrew as well, but there's no scientific evidence that he spoke Arabic. More infos on Jesus and Jerusalem)
Numan Acar is also a screen writer and film director. In 2014, he released Vergrabene Stimmen (buried voices), a German film he wrote, produced and directed.
His second film script, Weihnachten unterm Halbmond (Christmas under the half-moon), was awarded the Screenplay Prize by the Land of Hesse in 2014, but it hasn't been made into a film yet (financing is the problem).
SPIDER-MAN AND ALADDIN

2018 was a very successful year for Numan Acar. He was cast for two major Hollywood blockbusters: Spider-Man: Far From Home and Aladdin.
Spider-Man: Far From Home will premiere in June 2019. Numan Acar plays the chameleon Dimitri, a supervillain, who is a master of disguise. Cast: Tom Holland, Zendaya, Jake Gyllenhaal, Marisa Tomei and Samuel L. Jackson.
In 2019, No Name Restaurant should be released. It is the second film in which Numan Acar plays the leading role (link). The German film was mainly shot in Wadi Rum, Jordan.
Numan Acar isn't married and doesn't have any children. He's very reserved about his private life.
Even though Numan Acar doesn't get much media coverage, he's extremely popular. The article 25 Facts About Actor Numan Acar is the second most clicked article 2020 of our online magazine VERTIGO, which is being read in more than 100 countries. Number one goes to Mahmood. In 2019, the Numan Acar article was in the top 7.
VIDEO: THE RETURN OF HAQQANI IN HOMELAND 8
Homeland 8, the final season of the successful series, will mark the return of Taliban terrorist Haissam Haqqani played by Numan Acar. In the US, Season 8 will be aired in February 2020. Watch the official trailer below.
VIDEO: HAQQANI POINTS A GUN AT HIS SON JALAL
In Episode 3, Haqqani (Numan Acar) confronts his son Jalal (Elham Ehsas) to confess that he was the one who targeted his convoy.
VIDEO: HAQQANI IS SENTENCED TO DEATH
VIDEO: THE JUDGE SENTENCES HAQQANI TO DEATH
More infos on Numan Acar's Instagram account.
The article "25 Facts About Actor Numan Acar" is mainly based on interviews which were published in German newspapers and newssites. The actor did not reply to the interview request of our international magazine.
Cover photo: Denis Makarenko / Shutterstock.com / Photos: Courtesy of Numan Acar Instagram
Video: Numan Acar as Haqqani in Homeland
Numan Acar at the Spider-Man Premiere in Los Angeles (June 2019)
Numan Acar at the Aladdin premiere (May 2019)
Trailer: Numan Acar and Mandy Patinkin in Ali and Nino (2016)
Trailer: Diane Kruger and Numan Acar in the film In the Fade (2017)
Video: Numan Acar's first role in Kebab Connection (2004)
Video interview in German with Numan Acar (2014)
Video interview: Numan Acar on Turkey's political situation (2016)
Read more articles on actors and films in our Film category.